An Excerpt from "Pencil to Mouse, Forty Years of Graphic Design" by Kerry Grady
As a graduate student, I interviewed for a design position with a local architect, thinking that I would be his assistant. The project at hand was to design a sign system for a new hospital. Although I knew nothing about signage, or hospitals for that matter, I was recommended for the job by one of my graphic design professors who thought the sign project would be too challenging for him. He suggested that I negotiate an hourly rate that was 40% of the rate that he charged for similar work. When the senior architect and owner of the firm offered me the position, he also noted that I was still a student, and therefore a minimum wage would be appropriate. I was stunned, but after a minute or two, accepted the offer. After all, I knew then that the design opportunity far out-weighed the financial one.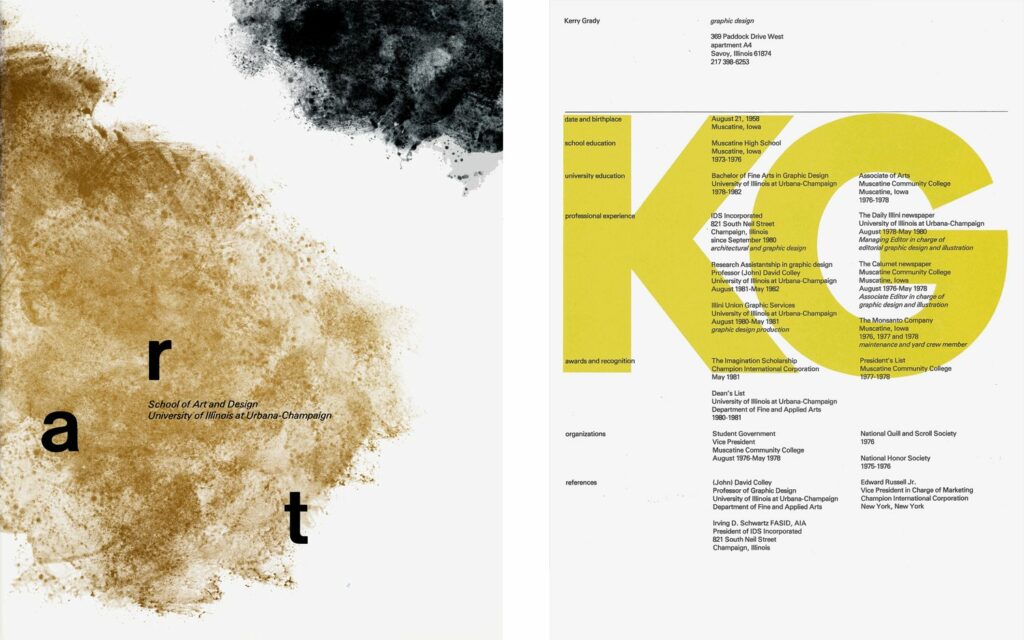 Exhibition Catalogue Poster (Left) , Resume (Right)
On my first day, I was introduced to the architect team and shown to my workstation. I was surprised that they assumed that I was familiar with architectural methods and tools – I wasn't. If it weren't for some basic knowledge pulled from my middle school drafting classes, I would have been lost. When we first discussed the hospital signage project, it was made clear that I was in charge. The budget was roughly $2 million – a lot of money for a sign system today, let alone in 1982. Fortunately, I was use to thinking under pressure and the outcome was a successful sign program – on time and on budget. Throughout my life I've learned a lot by asking good questions, and by figuring things out. Challenges like the hospital project gave me the confidence to pursue the next step, which was to land the job that I was told no one could get out of school: a graphic design position with Container Corporation of America.
Editorial Cartoon (Left), University of Illinois Jazz Band Album Cover (Right)
I'm not saying that anyone can be a great designer, but I am saying that a great designer can come from anywhere. I have been fortunate to have stumbled along from a small town in Iowa to the tutelage of some gifted and committed educators who came from places like Wyoming, Missouri and downstate Illinois – not considered hotbeds for good design.
I learned as most graphic designers learn – by drawing, taking photographs, painting and sculpting, and gradually stepping into the applied arts of graphic design, typography and printing. Just as I began my professional career, technology oozed its way into my world – gradually at first, as one miraculous innovation followed another, and then with the head spinning speed that left designers like me gasping for normalcy. It started with the fax machine, which was followed by the copy machine, the personal computer, image systems, digital fonts and the intranet. Since then, the relentlessness of technology – design templates, digital printing, on-demand publishing, digital photography, smart phones, websites, analytics, apps and software – continues to impact how professional designers work, and sadly, there's no turning back.
Over the years, I've worked for a wide range of clients that at one time represented the companies that everyone knew – Montgomery Wards, Motorola, Spiegel, Sears, Sara Lee, Kraft,
and Arthur Anderson. None of those businesses exist today. When I'm asked who I've worked for, it's a reminder how little we know stays the same. Despite the fact that change is inevitable, quality design transcends time, place, and client.
A life in design is a challenging one – living in a state of heightened awareness, throwing your soul into your very best work every day, which may be dismissed for the most trivial of reasons. And yet, despite the risk, I can't think of anything that I'd rather do more. Because when that noble client opens up to the possibility of creative change and inspired design, I have never experienced a more profound sense of joy and accomplishment. That's what the book is about.
To get a full copy of "Pencil to Mouse, Forty Years of Graphic Design" by Kerry Grady, follow the link https://www.gradycampbell.com/gci-store/from-pencil-to-mouse
Thumbnail image used is a clay bust, created by Kerry Grady