Thalia Kalodimos, Sr. Writer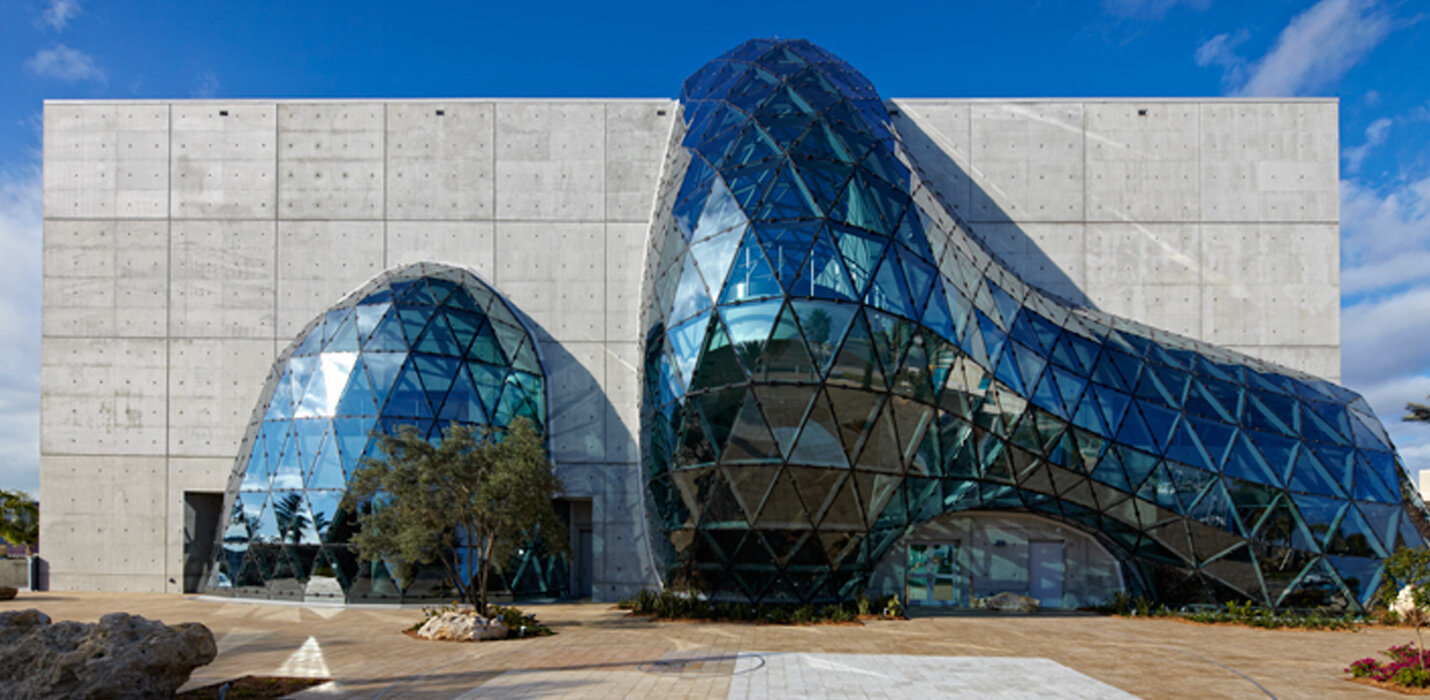 Salvador Dali Museum, Tampa Bay, FL.
It's been said the optimist sees a glass half-full; the pessimist says it's half-empty; but the experienced engineer will tell you the glass is twice the size it needs to be.
Novum Structures is a world class structural design and engineering firm that specializes in miraculous glass and membrane enclosures, gasp-inspiring technical feats—and stunning conclusions. You could say experiencing a Novum structure is something like happening upon the aurora borealis—an awesome astral projection that is both confounding and astounding at the same time. (The work is that cool) Clients and collaborators from legendary architect, Cesar Pelli, to bodacious boutique firms look to (and look up to) Novum for the highest level of technical sophistication and precision design support.
Novum oversees a project from "glimmer in the eye" to birth. (That is, from problem-solving, concept stage, finding cost-effective materials, fabrication, through its ultimate reality–construction.) Wow-worthy designs include the L'ueure Tranquille-Tours, France, Yueda 889 Square-Shanghai, China. Novum boasts spectacular North American projects such as the MGM City Center Aria Resort and Casino, Las Vegas, NV, Kansas City Performing Arts Center, and the mesmerizing Salvador Dali Museum, Tampa Bay, FL. "Utilizing free-form geodesic geometry, the triangulated glass organically flows around and attaches to the rigid unfinished concrete box, a play of hard and soft, protecting Dali's paintings and simultaneously providing natural daylight and openness to the adjacent bay," ArchDaily reports on the HOK, Novum creative collaboration. "This is the first use of this type of free-form geodesic geometry in the United States."Some describe this serpentine form (or "enigma" as HOK calls it) as a tear on Dali's cheek.
Ian Collins is CEO and President of global Novum Structures. Until 2004, Collins headed Mero Structures in Milwaukee, WI, the US operating entity of a German company with a longer than 60 year history in three dimensional structures. Since then, Novum has focused on expanding its integrated architectural systems based technologies and international business, and has designed and built over 1000 projects worldwide and more than tripled in size.
"Novum Structures partnered with Grady Campbell at this pivotal time of transition and rebirth,we sought an avenue to best convey our capabilities, engineering based creativity and value to clients globally" explains Collins. "It was, in so many ways, a perfect partnership," according to Kerry Grady, Principal. Ian has such inspiring vision, judgment, and understanding of the value of brand, design, and strategy. And as Novum develops over time, Grady Campbell grows along with them."
"Together, we ushered in the genesis of a new identity, and the Novum brand was built," says Collins. "We couldn't have had a better transition to a new name and brand than we achieved with Grady Campbell. After we launched the name, website and marketing program, there was an immediate uptake in enquiries and new business."