Kerry Grady, Founding Principal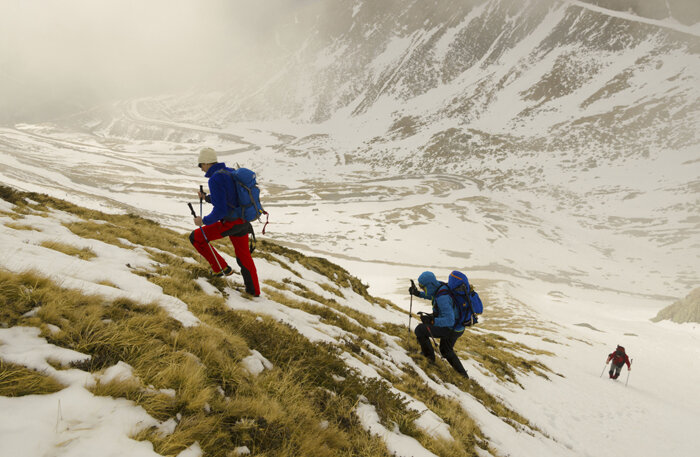 Grady Campbell knows brand is more than an overused buzzword. It's your beliefs, your character, the guiding light that shines through all the work you do. Call it whatever you like, we think it's just important to remember who you are, what you stand for, and what inspires you every day.
Grady Campbell believes in giving back. We're inspired by extraordinary people, who do extraordinary things in the world. Like Brad Bull:
Many men dream of following in their fathers' footsteps. For Brad Bull, that meant setting the bar very high—like 29,029 feet. His father, Sherman Bull, made mountaineering history as the first 64 year-old to climb Mount Everest. Behind him every step of the way: his boy, Brad.
Brad–and Dad–became the first ever father-son team to summit Everest. Talk about male bonding.
Brad Bull learned to look up—way up—to his father when he was just 10, hiking the mountains of Connecticut together. Even as a kid, Brad witnessed the value of camaraderie—and felt the impact of Dad's influence in his life. "It's my dad's indomitable spirit and ability to see things in a positive light that have guided us through the rough times, whether on the mountain or off."
That peak experience on Everest became an even more remarkable story. Not only did this father son team ascend the ranks of history, they brought along a friend–Erik Weihenmayer–the first, totally blind, man to make the climb.
Like a band of brothers, the 3 forged powerful ties at the top of the world—and learned life lessons they would pay forward for years to come.
In 2010, the team reunited for the very first Soldiers To Summits expedition. Soldiers To Summits (S2S) helps disabled veterans shatter personal barriers and reclaim their lives using mountaineering as a learning tool. On an S2S expedition, the physically challenged vets learn they can literally climb any mountain. It's never easy, Brad warns, even for the able-bodied. "Climbing is 95 percent boredom and 5 percent abject terror." But S2S sees the mountain as metaphor, and empowering training ground, where disabled men and women learn to deal with the certain past (and the uncertain future) while integrating the rehab process. They set ambitious goals, build world-class teams, innovate through life and death obstacles, and step up to lead—and serve—others. Any injured service member, from any service branch, active or retired, is eligible to apply. (Climbing experience is not required or expected) but they do need a base level of physical fitness, a willingness to grow, and a very big heart. "My Everest team and I felt privileged to participate in the inaugural S2S expedition to Lobuche in Nepal, and more importantly, we are fully invested in carrying forward the No Barriers mindset to help shatter barriers!" –Erik Weihenmayer
Brad Bull was part of the 2010 S2S team to climb Nepal's magnificent Lobuche and the 2012 team that topped Cotopaxi, the highest peak in Quito, Ecuador. He continues to be active with Soldiers to Summits, taking members out on weekend training trips in the mountains of Colorado. "Although I have been on many expeditions around the world, I think the Soldiers to Summits trip to Lobuche has been the most meaningful. Climbing to help others has greater rewards than merely checking another peak off the list." 
In that spirit of giving back, Grady Campbell's volunteer checklist is also growing. We give back with our skills and expertise (American Red Cross, Illinois Adoption Center, Dance for Life.) Through our individual volunteerism (Habitat for Humanity, Urban Farming, Chicago Lights.) By teaching (University of Illinois, The Art Institute of Chicago, Northern Illinois University.) And through professional leadership (American Institute of Graphic Arts, Society of Typographic Arts.) 
We may not be climbing mountains, but we're experiencing new highs, and we're not afraid to get our hands dirty.
To learn more visit Soldiers to Summit
See more HERE