We're proud to announce the launch of our new website gradycampbell.com: a brand-new online experience from beginning to end. At Grady Campbell, we are always looking for ways to step-up our game. While most of our time, energy, and resources are devoted to helping our clients succeed, our team has been working around the clock for the past few months to deliver a new and improved website for our firm.
"This is our sixth website, and I think it's our best one to-date. Staying ahead of the curve in the continuous evolution of web technology and on-line experiences is a challenge that we enthusiastically embrace. Our new website is the outcome of the creative input and collaboration between all of our team members."
Kerry Grady, Grady Campbell Founder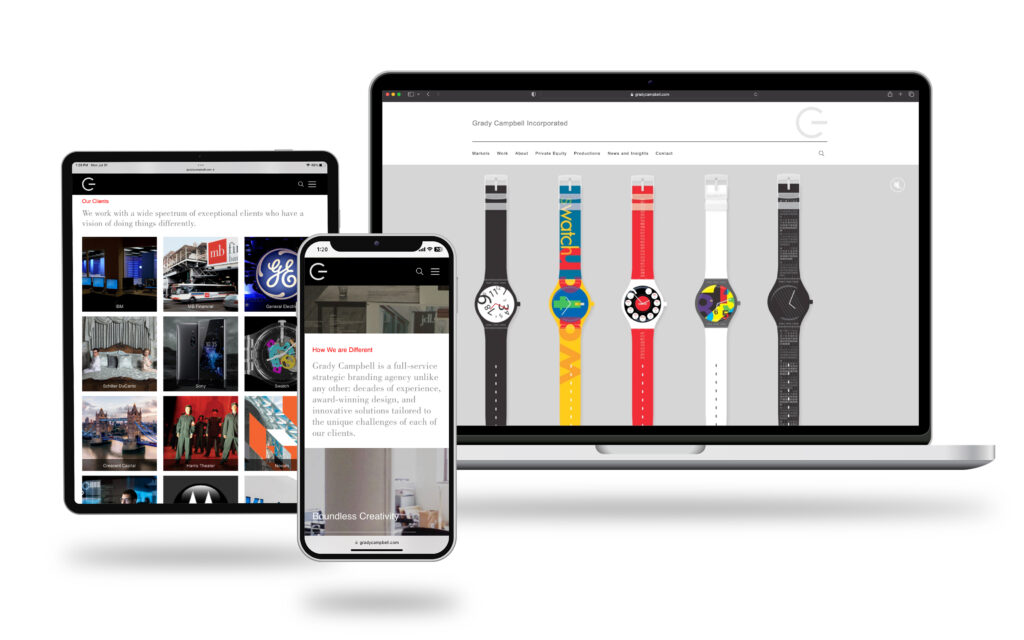 Our new website was designed to be faster than ever, more engaging, easier to navigate, and more dynamic with improved security and user experience. Our current and prospective clients will find refreshed and expanded content including case studies, news about our firm, our clients, and insights into the markets we know best.
At Grady Campbell, we do It all, and we do it well
Grady Campbell is a value-focused, full service creative agency that helps businesses grow by design. We specialize in creating and executing integrated brand, marketing, and public relations strategies to help our clients thrive. Our services include brand development, marketing strategy, content creation, website design and development, video and animation production, advertising, and publication and packaging design.
Get inspired. Get connected. Visit: gradycampbell.com