An Excerpt from "Pencil to Mouse, Forty Years of Graphic Design" by Kerry Grady
As I prepared to make the leap from school to the design profession, I met Robert Vogele, a groundbreaking design entrepreneur and mentor, business strategist and visionary who nurtured the creative potential of generations of Chicago designers. Known for founding two of Chicago's largest design consultancies, Bob had the uncanny ability to recognize creative talent, nurture it, and step back and watch it prosper. Bob was a University of Illinois alumni, and he hired me to design a magazine for his fraternity. Along the way, we became friends and he offered to help me make connections with designers in Chicago for job interviews. When I mentioned that I wanted to work for Container Corporation of America, he replied that that was not a realistic option. "That's not a first job, Kerry. Maybe down the road", he'd say.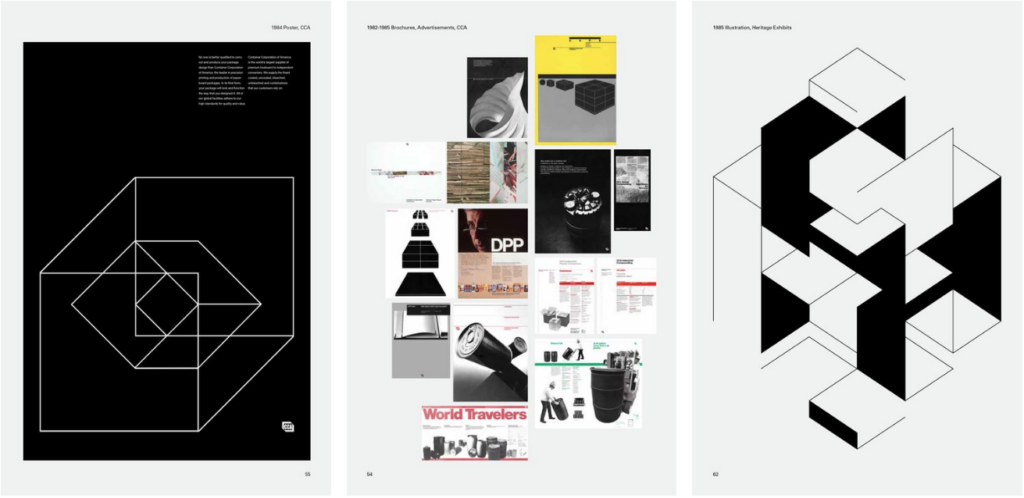 A few years before, Joe Hutchcroft, Container's Manager of Design, visited our design class. I was in awe of the work that he presented. His demeanor was quiet, kind, and poised. He was well dressed and business-like. He mentioned that he was born in Missouri and that he went to Iowa's Drake University. When one of the students asked, "what do you look for when you hire a designer?" Joe replied, "at least five years experience."
After Joe's visit, I dove deep into researching Container's design history. John Massey, an iconic figure in Chicago's graphic design scene, ran the company's corporate design group. John was also a University of Illinois alum. And, like me, he worked as a cartoonist for the University's newspaper. I compared his cartoon work to mine, and I thought that mine was as good as his, maybe better. I designed and printed a letter and a matching resume using a three-column grid and Emil Ruder's favorite type font, Univers 55 – set at 8.5 points over a large yellow "KG". The letter and resume', along with a little nudge from Bob Vogele, resulted in an interview.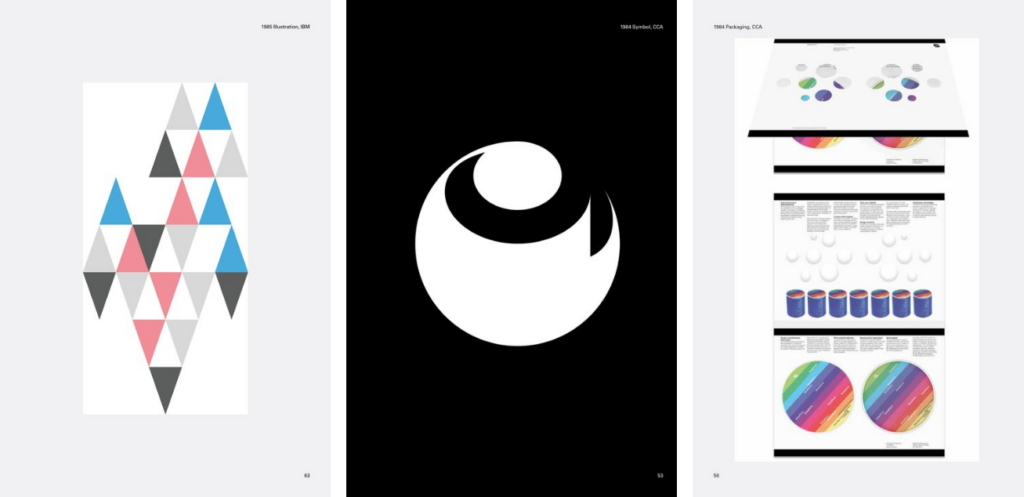 The day of the interview, I took the train from Champaign to Chicago. Container's office was in a new building – a modern, steel and glass, modular architectural design with a white marble lobby. I met with Joe Hutchcroft in his office and shared my story, my work, and my knowledge of Container's design history. The work that I presented was carefully selected to reflect the Swiss modernist aesthetic that Container was known for. Counter to my professor's advice, I also included some advertisements that featured cartoons that I had drawn. Joe mentioned that they prefer to hire designers with more experience than I had. I reminded him of the time when he met with our class and when asked what he looked for in a design prospect, he responded that five years experience was the starting point. I went on to say that what I believed he meant was that experience was important, but what was most valuable was the kind of experience, not necessarily the years of experience. I mentioned that I spent two years working with an architectural firm designing a hospital sign system, four years as the design editor of the University of Illinois newspaper, and two years designing Bob Vogele's fraternity magazine. Joe agreed that the quality of experience is what matters most.
Joe was impressed and suggested that I meet "the master" and led me to John Massey's office – a daunting and surreal experience. John Massey was handsome and impeccably dressed – pinstriped suit, starched collar, Windsor-knotted tie, cuff links. His office was originally seven or eight doors down from the office of Container Corporation of America's founder and chairman, Walter Paepcke, who built Container into one of America's most admired corporations and was venerated for his support of art, design and the humanities. Paepcke taught Massey the logic of integrating art and design into industry for the benefit of society as well as those involved in the enterprise. Massey placed great value on being knowledgeable and involved in the entirety of the corporate structure; enabling designers to integrate design into the totality of the company. The communications program, offices, architecture, transportation, products and packaging were all guided by Massey as he made design an organic entity in Container's culture.
When he introduced me to John Massey, Joe Hutchcroft suggested that he take a few minutes to look at my work. When John saw the cartoon ads, he laughed out loud and shared words of appreciation and encouragement. After the interviews, Joe thanked me for making the trip, and said that unfortunately there was not a design position open. I rode the train back to Champaign, devastated. A week later, Joe called and mentioned that surprisingly, a senior designer was leaving after seven years. He asked if I would consider taking a design position. I was thrilled, and of course I accepted the offer.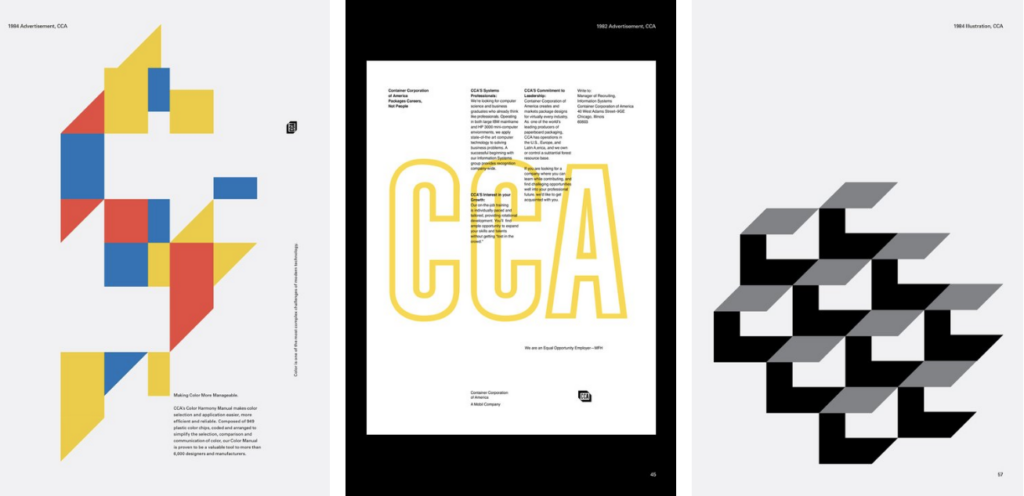 For more than fifty years, Container Corporation of America had invested a tremendous amount of time, research and engineering to develop the best techniques for manufacturing folding cartons and shipping containers – the whole process of forestation, of converting pulp into paper, and turning paper into products that can be marketed around the world. Container wasn't the only company doing that, but they thought that they were the best, and they wanted everyone to know that they were the best. So, they positioned themselves as a company of thinkers, people who knew what was going on in the world around them, who could relate all of that knowledge into producing the best products possible for their customers, and let the competition talk about the value of a box.
At Container, I met inspiring people who propelled me forward. In addition to John Massey and Joe Hutchcroft, there was Rhodes Patterson, a Renaissance man with a master's degree
in English literature from the University of Georgia. He was a self-taught filmmaker, photographer and designer and he took me under his wing. He taught me how to look at things differently and more critically. Rhodes was like an Uncle to me – always looking out for my best interests. We talked about the importance of quality design, film, and most importantly to him, writing. Rhodes taught me that words and images are intertwined – and a good designer needs to understand both to be successful.
At first, working as a designer at Container Corporation of America was everything that I had hoped it would be: a well-paid 9 to 5 job, and an opportunity to work on great projects with great people. My association with Container bolstered my reputation as a designer. I won awards and was often invited to participate in interviews, panels and classrooms. Overtime however, I realized that the legacy of design that the company was known for was waning. Walter Paepcke had died more than a decade before I joined the design team and the Mobile Oil Company had acquired Container as part of its global diversification business strategy. Container's senior management, for the most part, was led by oil engineers not paperboard professionals, who didn't share Paepke's vision or the cultural values that he instilled in the company. Profits were down, budgets were slashed, and morale was compromised. At the same time, the Swiss-modern style of graphic design that Container was known for was seen as obsolete by young post-modern graphic designers and architects who found it more advantageous to define their reputations by breaking from convention.
For me, the big blow was Container's sudden and shocking dismissal of John Massey. John's reputation as a designer was unparalleled in Chicago, and he committed his entire career to the company and to furthering Paepke's vision. On top of it all, everyone that knew John seemed to really like him. Watching John clean out his office was painful and confusing. What did this say to someone like me? The man that took his place was not a designer, but he assured me that he was a fan of John's and a design enthusiast. He explained that companies make decisions in regard to management style and direction, despite what an individual may have accomplished or what they mean to their staff. It was at that point that I chose to leave the company. A year later, Mobil sold Container to an Irish packaging company that was a fraction of Container's size. The new owner soon consolidated operations, cut jobs, and eliminated the design department. Experiencing Container's demise taught me life-long lessons of the perceived value of design in a slash and burn business world.
To get a full copy of "Pencil to Mouse, Forty Years of Graphic Design" by Kerry Grady, follow the link https://www.gradycampbell.com/gci-store/from-pencil-to-mouse
Thumbnail image used are The offices of Container Corporation of America, 1954. Courtesy of Denver Art Museum and Artists Rights Society. Source: Aiga.org