Juli Crabtree, Director, Brand Development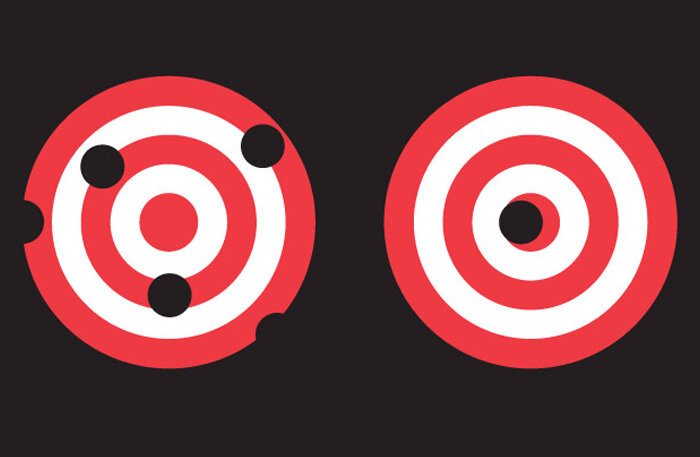 When it comes to developing an effective brand strategy, there's more than one way to hit a target. Shifting your approach can work as well as shifting your aim.
Developing a Brand Strategy can help your business attract more clients / customers, shorten the sales cycle, and ultimately become more profitable. Understanding your audience, market position, brand strength, and value proposition — all elements of strategic branding – are crucial for success. Clearly defined brand vision, mission and values is vital to propel your business forward;  inspiring your employees — including the company leadership — as well as your customers. Brand vision, mission and values speak to people on a human and emotional level, helping them connect with the brand, in meaningful, lasting ways.
Creating Your Vision and Mission
Your brand vision is the spark for creating the company, your raison d'etre. Brand vision is the "why" of your business. Your mission represents the expression of what your company will do; how the why of the vision will be expressed. Brand mission defines what you promise to do for your clients. Knowing why you exist as a company — beyond making money — inspires your team and your plans, and drives your actions.
Defining Your Values
Your values are your belief system, which guides your approach.  For instance, let's say you are a wealth manager, and you value customer relationships, integrity, confidentiality, and helping people to achieve their goals. These values would be seen throughout your business and might be reflected in how you not only market, but how you handle your customer interactions. Apple's brand values of innovation, simplicity and ease of use are seen throughout all of their product development and marketing communications. What are your brand values? 
Discovering Your Brand Personality
Your brand personality is the tone and style, or attitude, of your communications. To help our client's identify their brand personality, we develop a list of the emotions and adjectives surrounding the brand. We ask: "are you playful or serious; formal or casual; traditional or progressive?" These are just a few examples. Ultimately, we narrow the list, to focus on the key attributes of your brand. Your brand personality will inform all of your decisions regarding the "look and feel" of your visual identity (logo), and marketing program, including web sites, presentations, brochures and advertisements.